See on Scoop.it – #OrcaAvengers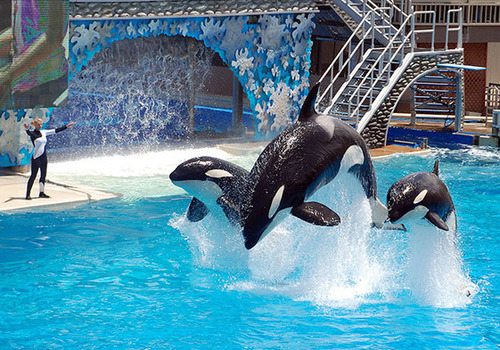 The release of "Blackfish," a scathing documentary about SeaWorld and the orca entertainment industry, set off a wave of protests and boycotts from Willie Nelson, Richard Branson, and elementary school kids alike.

Now the controversial film is making another splash, with a California bill to end Shamu shows at SeaWorld San Diego. The proposal would also ban orca import and export, plus captive breeding in California. If it passes, the 10 killer whales currently held in San Diego could be retired to sea pens. They'd be on display, but no longer asked to perform tricks for thousands of spectators.

When California Assemblyman Richard Bloom, a Santa Monica Democrat, announced the bill earlier this month, the director of "Blackfish" was there to promote it, along with an animal welfare activist and two former SeaWorld orca trainers.

"This is about greed, and this is about corporate exploitation, both of the whales and the trainers, but most importantly the whales," said John Hargrove, a former SeaWorld killer whale trainer during the press conference.

"Blackfish" implies a connection between the 2010 death of senior SeaWorld orca trainer Dawn Brancheau, and the animal's treatment in captivity. It shows the wild whale roundups and links the trauma of separating calves from mothers to aggression. On their website, SeaWorld points out that it hasn't removed whales from the wild for 35 years.

After the film's release, SeaWorld launched a PR blitz, taking out full-page newspaper ads to defend its record on animal care and rescue, and calling "Blackfish" propaganda. Former SeaWorld trainers have defended the company, and Brancheau's family distanced themselves from the film.

In the wake of the bill's announcement, SeaWorld hired lobbyists to fight it in Sacramento. Pete Montgomery of Montgomery Consulting formerly was the director of government affairs for BP North America, and Scott Wetch currently represents Chevron, food conglomerate Archers Daniel Midland, and California CSS Consortium, a group of petroleum and energy companies advocating carbon capture and sequestration.

"We engage in business practices," said SeaWorld in a statement, "that are responsible, sustainable, and reflective of the balanced values all Americans share."

It seems unlikely that the "Blackfish" bill will find the majority it needs in the California legislature. But if it does, Shamu Stadium may eventually go dark and more people will have to follow the lead of the school kids that boycotted SeaWorld — by getting their whale watching fix in the wild.
See on www.adventure-journal.com