See on Scoop.it – Our World.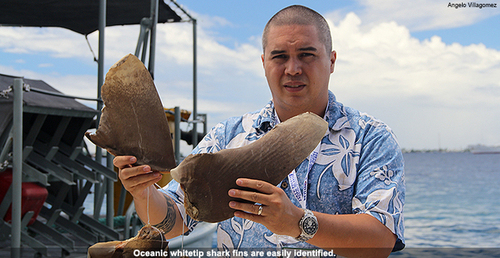 By Angelo O'Connor Villagomez
Majuro, Marshall Islands. The tropical sun has baked the eight bulging sacks, each about 1 meter long, since February in an unventilated warehouse. The distinctive aroma of shark fins assaults me as I enter on this early September day. Urea regulates salt intake in sharks, and it quickly decomposes into ammonia when they die. The toxic and foul-smelling chemical is overpowering and makes my eyes water.
Ripping open the sacks, we find mostly fins from blue, silky, and mako sharks. Fishermen cut off the dorsal, pectoral, and caudal fins because they are the most valuable parts, and as many as 40 percent of the sharks are thrown back in the water to die. A full set of oceanic whitetip shark fins tied together with fishing line is in one sack. This shark is one of the most vulnerable shark species, and its fins are some of the most valuable, used solely as an ingredient in soup. –
Retaining this shark is illegal in every major fishery around the world. It is specifically listed by the Convention on the International Trade in the Endangered Species of Wild Fauna and Flora, or CITES, as potentially threatened with extinction if trade restrictions are not put into place. – See more at: http://www.pewenvironment.org/news-room/other-resources/dispatch-from-majuro-marshall-islands-disposing-of-confiscated-shark-fins-85899507430#sthash.DJWMPZy0.dpuf
See on www.pewenvironment.org